Funny Feeling Ambassadors
-Dr. Alan Xenakis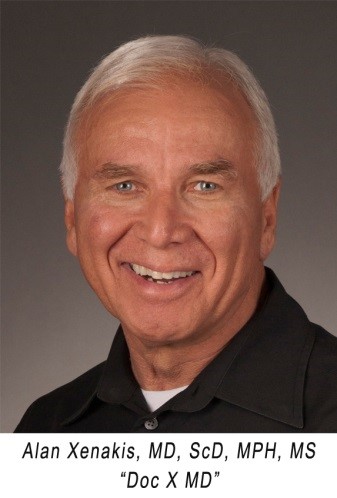 Dr. Xenakis is one of our nation's foremost endearing storytellers sharing with us "why we do what we do" and "what we can do about it."  As a nationally renown and successful author, and healthcare educator, he utilizes his storytelling humor to demystify mental, emotional, and physical oddities and bodily functions in a way that leaves the reader and listener entertained, enlightened, and educated.   As an Emmy Award winning radio and television host and producer, he created more than 6000 programs.  As a College Professor, he instructs students within the areas of medicine, nursing, public health, pharmacy, leadership, and graduate biomedical sciences.  As a successful businessman, he created, developed, and managed several substantial corporations within the area of communications, nutritional health care products, and consumer health education.  Hailing from New England, he is a proud alumni of the University of New Hampshire, Boston University, and Harvard University.    Several "fun facts" about Dr. Xenakis are that he enjoys recreational sailing and flying, enjoys Lionel model trains, holds his motorcycle license, claims his favorite movies are "Wizard of Oz" and "Pretty Woman", is of Greek descent, and loves his three Boston Terriers. 
-Audra Smith
Professionally, Audra is a Registered Nurse with more than 25 years of experience, with primary area of clinical expertise in Inpatient and Ambulatory Obstetrics, Pediatrics, and Clinical Research.  She has served within these fields as a primary/bedside nurse, a nursing leader, and nursing educator.  Audra Co-Hosts weekly on NPRs Xpress with DocXMd, with Dr. Alan Xenakis.  She also appears as a Co-Storyteller on NPR's weekly Doc X MD's Funny Feelings.  Several "fun facts" about Audra are that, she enjoys camping with family, cooking and baking, admiring and driving old and new muscle cars, claims that her favorite movies are "Tombstone" and "Goonies," and yes, she holds a motorcycle license, and loves Harleys.
-Sierra Jones
Sierra Jones' specialty is corporate web site design and social media marketing. She hold a bachelors of science in Computer Science and Engineering and certifications in Project Management. She enjoys spending time with family, baking, and traveling. She enjoys playing tennis and golf in her free time.